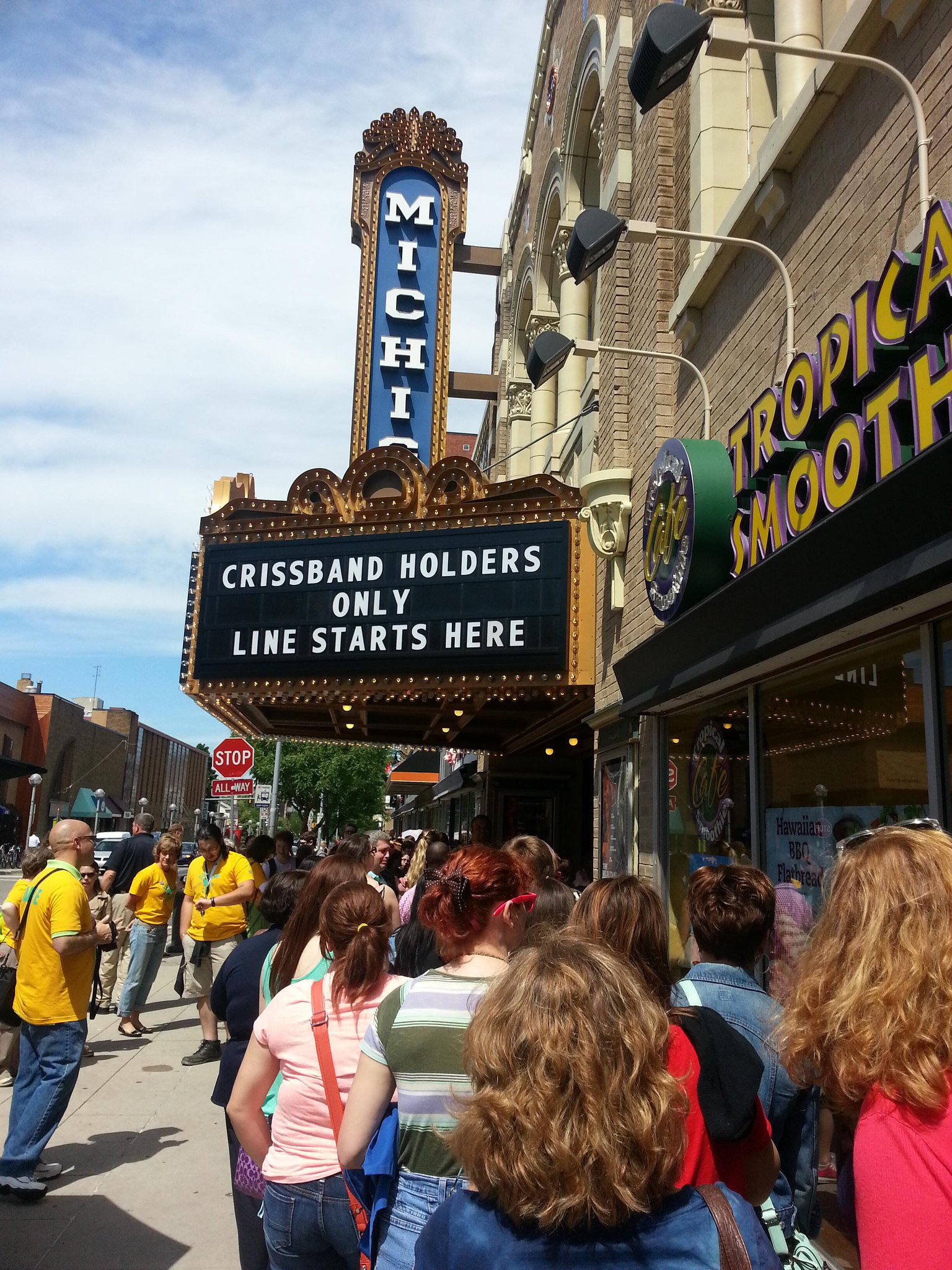 Starting at 5 A.M. on Thursday, June 13, the people of Ann Arbor and other cities in Michigan lined up at Michigan Theatre to see their favorite Glee character, Darren Criss, perform an epic set. There were two lines; one for those who did not yet have Sonic Lunch wristbands, and one for those who did, as they were handed out at various Ann Arbor locations prior to the day of the event. For those who didn't have them, once they got their "tickets" to the concert, they had to go to the back of the wristband line. The line started at the theatre, wrapped onto State Street, and continued onto Washington Street for several blocks. There were approximately 1500 audience members present at the event that was part of a Sonic Lunch series, sponsored by the Bank of Ann Arbor, and coordinate by Tree Town Sound. The concert had a delayed start due to technical difficulties, however, people were patient and did not loose their excitement for the event. It finally kicked off at 12:30 P.M. with Theo Katzman, a native of Ann Arbor and five-time Sonic Lunch performer. The crowd had an incredible amount of energy and enthusiasm at the concert as both Katzman and Criss have history in Ann Arbor. Katzman strummed his guitar, made by kids at Ann Arbor Music Center, and sang some of his favorites with his sweet, resonating voice.
Next up was the star everyone had been waiting for: Darren Criss, who plays Blaine Anderson (a gay high school student) on
Glee
, a very popular Fox musical comedy-drama series. It was quite an emotional show for him, as he attended the
University of Michigan
, graduating in 2009. He talked a lot to his fans, in conversation style, and it was remarkable how he could make every single person in the theatre feel special even though there were so many of them. He spoke of his wonderful times in Wolverine town and of the songs he wrote here; the people he met are still his friends today.
Criss
even invited a girl (who was celebrating her 21
st
birthday), in the front row, up onto the stage! He was all about connecting with his fans and the people of his university town; it made for a personal tribute to Ann Arbor. He performed for roughly 2 and a half hours with some well-known tunes, but also some private, lesser known songs that were about beginnings, college, and Ann Arbor. All in all, he put his heart and soul into this mind-blowing, emotional performance. It was a fantastic atmosphere of harmony, people, excitement, and fun in Ann Arbor's historic 1928 theatre.