During the past few weeks, residents and visitors of Ann Arbor have been spotting works of art attached to sides of buildings, planted in the ground and more across the city. The Detroit Institute of Art (DIA) has brought their Inside|Outside program to Ann Arbor through the month of June. Seven reproductions of famous paintings have been placed around the city which include:
The Fruit Vendor, Madame Paul Poirson, Head of a Woman, Syria by the Sea, The Window, Indian Summer
and
Judith and Her Maidservant with the Head of Holofernes
.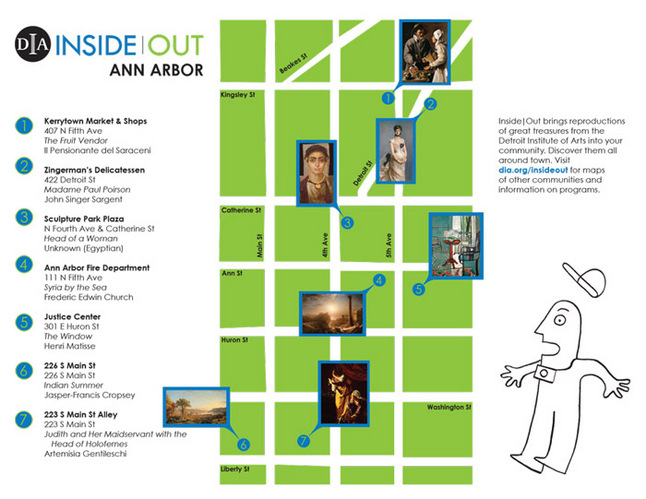 Here is the map provided by the DIA
Following the map and scavenging around for works of art was a lot of fun, especially since I am not familiar to the Ann Arbor area (I may have gotten lost once....or twice).
Look what I found under a tree! The Head of a Woman painting!
The Head of a Woman can be found in the
Africa, Oceania & Indigenous American
section of the DIA. The artist of this painting is unknown, however it is projected to be painted between 130 and 160 A.D.
Indian Summer seamlessly works with the brick building! Being new to Ann Arbor, it really seemed like this picture was a permanent part of the city.
Indian Summer is an oil painted created in 1866 by Jasper Francis Cropsey. It can be found in the American Art before 1950 section of the DIA.
The areas the DIA placed these works of art not only make the city of Ann Arbor stand out, but almost makes it seem like the paintings actually belong here. I highly suggest taking a walk around Ann Arbor to find these paintings. Besides finding wonderful works of art, you can discover what other attractions Ann Arbor has to offer.